Transportation for Key West Weddings
Limos, Trolleys, Trains, Vans
Get from one place to another in comfort and style. Let our Key West transportation specialists serve you.
Whether you decide to take a trolley, rent an electric car, or hire a limo, remember…..
Key West is only two miles by four miles. So, it will be a short ride!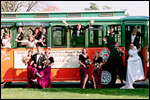 Old Town Trolley Key West
Key West, Florida
(877) 455-9135
We'll get you to and from your events around the island in Key West style – To one location or several. Old-fashioned charm in oak and brass. Up to 40 guests per vehicle. Multiple vehicles available for large groups.
AAA Limo Key West and the Florida Keys 
Key West and the Florida Keys
305-731-4340
email: aaalimogr@gmail.com
AAALimo….it's your SPECIAL BIG DAY….you deserve the best in limousine transportation for you and your special someone….or your entire wedding group….call AAALimo for AFFORDABILITY…DEPENDABILITY and….the BEST DEAL in town….it's good to have AAALimo at your doorstep….located in Key West to serve you the best!!!